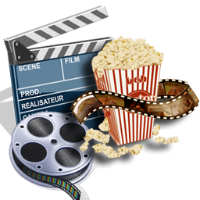 Today is my hubby's 36th birthday!!! And in honor of him, I was gonna feature his favorite movie.....but I don't know if I could say anything nice about it.....
We watched this movie on our first "date".... we had gone to the mall and then back to his house to hang out. It's just not my thing.
So I'm trying to think of some other movie that we love together or something significant. All that comes to mind is the very first movie we went to the theater to see together. Now....this movie is definitely not on my list of all time favs, but I do love it!! Not sure if it's necessarily because of the content of the movie or just the nostalgia of it being our first movie date together!!
Clueless
came out in July of 1995, just after I had graduated from high school and merely weeks after starting to date hubby. I totally had the little pleated skirt with the thigh high stockings!! The midriff-baring sweaters and shirts!!! The fashion trends from this era were so fun!!! I so wanted everything Cher wore in the movie!!!
This movie is a feel good kind of movie...the spoiled rich girl decides to use her popularity and money for the better good. You can't help but love Cher, even in the beginning when clothes and shopping are her life. She is just a lovable character from minute one! And I think that's what any author or writer wants...they want their characters to be loved, flaws and all, from the very beginning.
I loved Alicia Silverstone in many movies (Ever see
Blast From the Past
?? I may do a Movie Monday on that one!!) and I think
Clueless
was really her big break...after this, everyone knew who she was. The movie started some other pretty big careers too: Brittany Murphy (May she rest in peace. I so miss her!!), Paul Rudd (Yeah..think back..he's the kinda cute yet dorky older step brother who Cher falls in love with!), Stacey Dash, and Donald Faison.
So...were you a
Clueless fan
?? And more importantly, did you wear any
Clueless
inspired clothing??? :)