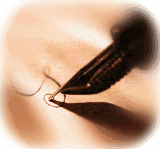 I love love love publishing contracts!!!!! I hope this never stops feeling this good!!
I submitting
Karma Kameleon
, the sequel to
A Bitch Named Karma
, to my editor at
Lyrical Press
a couple weeks ago. She is usually pretty fast with this kind of thing, so I didn't expect it to take long to hear from her. But it still felt like forever and I told myself to just chill out. I knew she was reading it...she told me she was...but nothing. Nadda. No clue on if she was enjoying it or not. So I was super nervous.
But then the other day I checked my email, and there it was...a contract for
Karma Kameleon
! Usually my editor tells me ahead of time that she is recommending something for contract! But not this time....total surprise!! And I loved it!
So excited!!!
And check this out!! A local paper did a story on me!
Click here
!