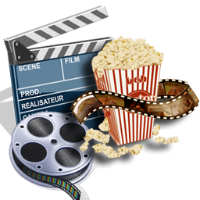 Today's post is a musical!!!!
I am a huge lover of music in movies. I LOVE a great soundtrack!! But what made this movie even better was the fact that the actors also sang every song and the songs were part of the movie, not just background noise!!
I remember when
Chicago
came out...at the time, I honestly did not know anything about it. I had heard of it, kinda knew the era it was...but all I knew was that it was a Broadway show. But then one day I saw the video on VH1 for
All That Jazz
. Holy Crap!! I was COMPLETELY hooked and just had to see this movie.
Just amazing!! The songs and music...the theatrical performance numbers!! I loved the way the scenes flipped between real life (like inside the prison) to the fabulous stage performance that was going on inside their heads. The music in this movie is phenomenal....it's one of my favorite movie soundtracks of all time, and
All That Jazz
is still my favorite on the album.
And the costumes. Wow!! I so want to have some reason to wear something like one of them some day!!! I came kinda close in my dance class a while back...a cute little costume with a fringe skirt!
Catherine Zeta Jones was unbelievable and though I'm not a huge Renee Zellweger fan, she was good. And Queen Latifah...LOVE her! Who knew Richard Gere could sing?
So, what are your thoughts on
Chicago
???