Which would you prefer?
This:
Or this: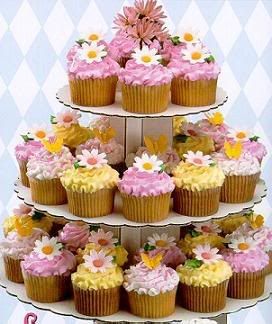 Yeah...I know what I would pick!! Today I have the AWESOME
Jen Daiker from Unedited
here to guest blog!! If you don't follow her, definitely go do it now! Thanks Jen for being here!!
Querying.
Your friends may call it Query Hell but I prefer Cupcake Heaven.
That's right, you're about to embark on a journey that includes cupcakes and honestly, who doesn't love cupcakes?
Since Stephanie invited me here I'll share both positive and negative aspects of querying – after all it's only fair.
Steps to query
1. Master your query letter. If you're looking for help Elana Johnson's Query to the Call will seriously knock your socks off. From there to send to a couple of friends. Don't go crazy because you don't want the negativity bug to bite you.
2. Compile a list. Not every agent is going to like you. It will be subjective – very subjective. So be sure to get a few TOP agents you want to query paired with a few that you just want to 'test' the waters with. QueryTracker is a great guide to not only keep track of your queries and agents but also to see the turn-around time. When you first start out just send a few (3-5) and see how they take. I watched who responded quickly so I could get my first rejections out of the way.
Side note: This is where the cupcakes come in. To keep from getting the negative attitude that comes when querying we remove the word rejection and replace it with cupcake. When an agent gives you a cupcake rather than a rejection you can't be that mad can you?
3. Cry. This one you will not get away from. They start to sting after a while and I'd be lying to you if I said they don't continue to hurt. It's best to cry it out… eat a cupcake (but not for every cupcake you receive – trust me you'd end up a cow).
4. Know when to stop. Walk away from the email, quit checking the said agents twitter account, and for junk sake step away from Querytracker. As much as they can be your friends the wait will tear you down. Watching all the requests you receive can give you major doubt syndrome. When you see all the positives and you start feeling the negatives take a day off from the computer. You'll thank me.
5. Never give up. Requests will come and go along with the cupcakes. The point is to never second guess and never give up. You believed your work was good enough now let it do the talking. Meg Cabot was rejected over a hundred plus times and never gave up, now she's on top. You worked hard now let the hard work do the talking.
So enjoy Cupcake Heaven. One day after you've eaten one too many you'll laugh remembering how long it was, how hard it was, and how much it paid off.