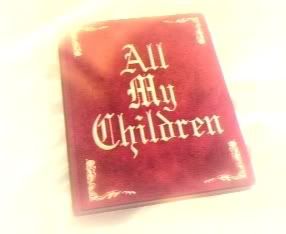 A few weeks back it was announced that my favorite soap, the long-running All My Children, has been canceled. This is the only soap I've ever watched and it's been a part of my day since I was 15 (almost 20 years). So I've been watching it for more of my life than I've not. Wow.
There had been rumors for a while, but the day they actually made the announcement...I was far more upset that I thought I'd be. Those characters were such a part of my life. I remember when I first started watching. My Grandma had fallen down some stairs in her apartment and needed to stay with us that summer. She just
HAD
to watch her story every day. And one day, in passing, I saw some teens on the show. I wanted to know what was going on. For you veteran AMC fans, it was Haley and Brian's love story way back in the early 90's. It sucked me right in and soon I needed to know what was happening in every other story line.
Many people may call soap operas silly and a waste of time. But these are stories of romance, drama, comedy, sometimes even suspense and intrigue. There was a little bit of everything. Yes, sometimes the storylines were corny and far-fetched, but after over the course of 40+ years, the writers had to get creative now and again. But it was always the romances the sucked me in.