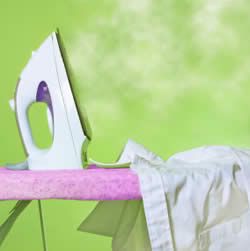 The other day I pulled out my iron and realized it is the same iron I've been using for years. It was a gift from my bridal shower, over twelve years ago. It still works perfectly fine. Then I thought about all the things I still have that I got as a bridal shower present: hand mixer, dishes, glasses, veggie steamer, bakeware, bath towels, coffee maker.
I guess I wish I had newer models of some of these items. My hand mixer is kinda plain and simple and I wish I had a fancier one. Towels are getting kinda faded. Getting a bit bored of our dish pattern.
But some of the things are just perfect. We're not coffee drinkers so the plain Jane simple coffee pot we have that only gets pulled out a handful of times a year suits us fine. We've broken about half of our glassware, but how many glasses do we really need. I wash the ones we use almost every day.
The other day we were at Kohl's and walked past the fancy luggage. We travel at least once a year and those Samsonite suitcases look so nice and so much better than what we use. We have two set of luggage. The first was a shower gift and after many many trips with it, they are pretty banged up. The second set was a cheapy set and while they aren't in as bad a shape as our original set, it is just not a high quality. We usually use both large suitcases and the newer medium and small sizes. But am I willing to spend a ton of cash on new luggage with the way the airlines handle them???
When do you decide to replace something?? Whether it be an appliance or linens or books?
Obviously it's easy to know when to replace something that has broken and is either unfixable or the cost to fix just isn't worth it. But other things...they may not be broken..but maybe you're just bored with it. Or maybe it's just not performing as well as you'd like.
When it comes to books, and specifically genre, I have a couple genres I love and that is mainly what I stick with-- Women's Fiction/Chick Lit/Contemporary Romance. It's what I write, it's just what I enjoy reading. Will I ever stop reading and writing my genre and replace it with something else?? I can't say for sure. But I do know how much I love it right now. I do from time to time read something different, but I always go back.